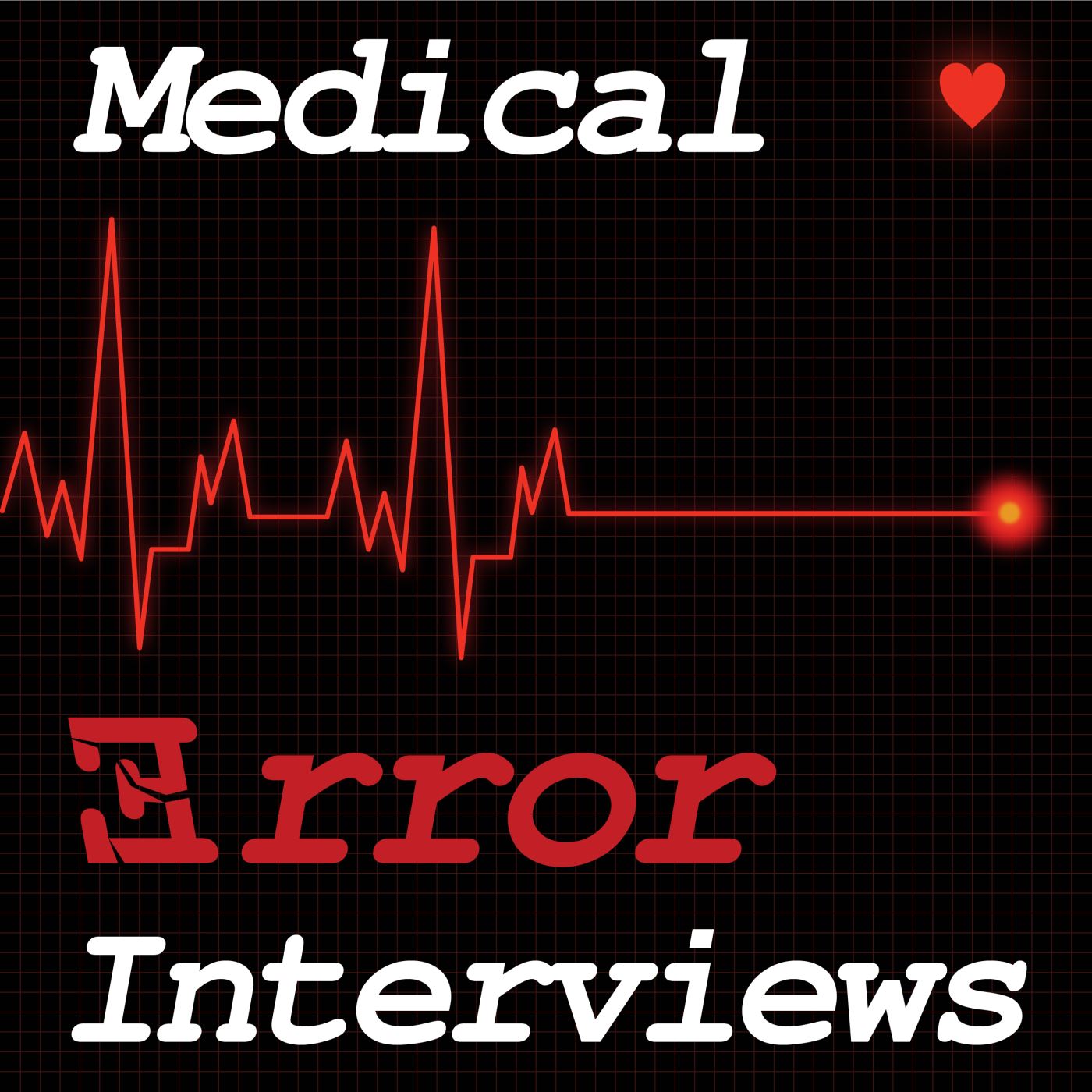 Interviews with survivors, victims' families, policy makers, and health care workers. What went wrong? How can we make health care safer? Host Scott Simpson, uses his counselling skills to evoke the secrets, stories and solutions. https://www.patreon.com/rss/MedicalErrorInterviews?auth=2eY8hVY9bd5o78a8cmpNSURYZ2VrqXrq
Episodes
Monday Apr 27, 2020
Monday Apr 27, 2020
When Larry was doubled over with chest pain, his wife Jane drove him to the nearest ER where he was diagnosed with a heart attack. 
The health care Larry received over the next few hours was motivated by profit and punishment. At each turn, hospitals sought to maximize their profits, including fraud and falsified medical records, on the treatment Larry received.
The hospital staff made choices, always the most expensive choice - like sending Larry to another hospital by air ambulance instead of road ambulance, or choosing high cost, highly invasive medical procedures over the least costly, least invasive medication Larry actually requested. In spite of Larry repeatedly stating he only wanted a minimum dose of pain killers, the hospital injected him with multiple pain killers, rendering him incapable of making informed consent.
Larry was air transported to the local Cathlolic hospital. While much of this was going on, Jane and their son were intentionally and overtly being kept away from Larry by the hospital chaplain -- and while the chaplain was receiving updates on Larry's condition, he wasn't sharing the info with Jane and their son. Hours went by and during that time, Jane repeatedly asked the chaplain to leave so she and her son could have some privacy and speak freely. He refused each time. Jane couldn't understand why the staff were being so openly hostile toward her and her son.
The next day, Larry couldn't understand why the staff had ignored his statement to be treated with medication, and instead implanted several costly devices in his body. Devices that cause side effects and will probably contribute to his death.
But when Larry and Jane got a hold of Larry's medical records, they began to understand that his hospital care and treatment was not based on his medical need, it was based on profit and religious punishment. But the punishment was actually started by the first hospital as Larry and Jane share in the medical experience with multiple layers: profiteering, medical errors, negligence, religious bigotry, fraud, homophobia, deceit and denial. 
If you thought hospitals were benevolent and their staff empathetic, you will think differently when you hear all that happened to Larry and Jane in part 1 of my interview….
SHOW NOTES:
| | |
| --- | --- |
| 0:06:00 | Larry (a pseudonym, as is Jane's name) grew up in Indiana - his father was a contractor in the construction industry with one brother, and a half brother and sister - health child with normal measles, mumps, poison ivy |
| 0:07:00 | Jane grew up in central Indiana - her father worked for the a big pharmaceutical company - when her parents got divorced, life was hell because they fought constantly even though they were divorced - Jane met Larry through work, she worked for the State and Larry was doing a contract computer job |
| 0:08:00 | They've been married since 1987 - they have a son who is a teacher, and a daughter who is in business with Jane, doing specialty sewing -- On August 11, 2018, a Saturday night about 7pm |
| 0:09:00 | Jane found Larry on the floor with chest pains and difficulty breathing - pain level about 7 out of 10 -- Jeane said they had to go to the hospital, but Larry wasn't keen |
| 0:10:00 | Larry has always been healthy, so not in the habit of seeking medical attention - Larry thought maybe it was indigestion from dinner |
| 0:11:00 | Larry wasn't having pain down his arm or irregular heart beat, his blood pressure was fine |
| 0:12:00 | The pain was for about 8 - 10 minutes before Jane found him |
| 0:13:00 | They live in the country so drove the local hospital - when Larry got to the ER his pain was 6 / 10 |
| 0:14:00 | They admitted him right away - first thing Larry did was tell them he was very sensitive to pain killers and didn't want any fentynal, versad or anything like that - the doctor if he would accept a small amount of morphine, so Larry agreed to that - but he told the doctor that in the past pain meds had messed with his blood pressure |
| 0:15:00 | Pain meds raise his blood pressure, cause erratic breathing, cause nausea - after the morphine, Larry's pain was 1 / 10, a dull ache |
| 0:16:00 | They did diagnosis a heart attack, but said they were not equipped and that Larry would have to go to another hospital - Larry decided to go to the hospital that had a heart center |
| 0:17:00 | Larry was told he would have 3 options for treatment: open heart surgery -- or angioplasty - or medicines to bust the clots -- Larry said he'd prefer to try the drugs first - the doctor said Larry could discuss with the doctors at the heart hospital - Larry said that Jane needed to be there for major decisions |
| 0:18:00 | The morphine made Larry a little slow on thinking - he would find out later they had given him 4mg - the doctor said he would order transportation to the other hospital, he'd call both an ambulance and helicopter and whoever arrived first would take Larry - but according to the hospital records, they never called an ambulanc, even though the EMTs were just down the street |
| 0:19:00 | Jane checked with the EMTs later, and they were available and could have taken Larry - but Larry believes the hospital chose the air ambulance because it belongs to the hospital and is more expensive |
| 0:20:00 | It took almost an hour before the air ambulance arrived with pilot and 2 medical workers - they asked Larry is pain level, he said 'one' - he found out later they wrote down 'eight' |
| 0:21:00 | But the ER doc had noted Larry's pain as 'one' after the morphine |
| 0:22:00 | They loaded Larry into the helicopter - Jane and their son started to drive to the other hospital - in the helicopter, Larry wore sound defeaning ear protectors - the paramedics did not speak to him, but noted in their records his pain was 8 / 10 |
| 0:23:00 | In their records it shows they gave Larry, without his knowledge or consent, a 100 mcg of fentanyl - Larry was out of it, he didn't know what was happening - he thought he must be dying, he felt like he was above his body - this continued until late Sunday - he was incoherent and can only remeber bits and pieces - but basically like a zombie |
| 0:24:00 | Larry does remember when the helicopter landed, there was no one to meet them - the paramedics waved down an employee in the parking lot, who let them in a side door - they wandered around the hospital looking for the 'cath lab' |
| 0:25:00 | When they got to the cath lab, with the pilot observing, they put Larry on a steel table - they had already given him to IV ports, one in each arm - the female nurses in the room didn't speak to Larry, but started stripping his clothes off |
| 0:26:00 | Larry would find out later they dumped his clothes in a red haz (hazardous material) mat bag - Larry was out of it, his arms felt like lead - fentynal also paralyzes and makes patients compliant |
| 0:27:00 | Larry could hear the doctors and nurses talking - someone said to send a Chaplain to the family and Larry wondered if he was dead - he was scared, wanted Jane |
| 0:28:00 | According to the records, Larry was left naked on the table for about 25 minutes, they never spoke to him - but their records said his pain was 5 / 10, but Larry wasn't feeling any pain - Larry heard one of them say they would have to shave Larry, so he thought he must still be alive, but why would they want to shave him? |
| 0:29:00 | They put 2 more IV ports in his arms, so that he had 2 in each arm, but there was nothing in the record - he could hear them talking and laughing |
| 0:30:00 | Larry found in his record a consent form that stated that Larry had verbally stated that he was having an 'emergent cath', but he did not even know that term at that time - but Larry did not say that, and their records showed him 'alert X3' - but they had given him 4mg of morphine and 150mcg of fentanyl and 1mg of versad |
| 0:31:00 | CMS (Centre for Medicare / Medicaid Services - government watch dog) admitted the consent form had only been completed after Larry had been drugged - but CMS also said no reasonable person would say no to gold standard treatment |
| 0:32:00 | In the medical records, one doctor said he thought they should just put Larry in a room for observation, but the hospital had already called in the cath team (cath team: xray above steel table, from groin to chin) |
| 0:33:00 | They go in through the wrist if they are experienced, otherwise in through the groin, as happend to Larry - they insert flexible wire with camera on the end after shooting dye into your system, known as angiogram - and angioplasty is when they go in and bust blood clots, or open an artery with a balloon, aka PCI except put in metal stent |
| 0:34:00 | stents have a habit of forming plaque and platelts and blockage and probably heart attack |
| 0:35:00 | Larry was cold, didn't know what was going on, pressure from xray machine, and also immense pressure in his groin as they pushed the tools up through his arteries - when all is said and done, they put 2 stents in Larry that will probably kill him at some point in time - another artery was 38% blocked, but they didn't do anything with it, they will save it til later - for another costly operation |
| 0:36:00 | so Larry is naked on the cath table, so cold he's shaking - the records show that Larry's blood pressure dropped severely at that time, Larry went into cardiagenic shock, which is low blood pressure for more than 30 minutes |
| 0:37:00 | Larry and Jane don't think it was cardiogenic shock, they think it had to do with the massive amount of fentanyl - they were also doing a procedure to clear out the clots at that time, so it could have contributed - the doctor who did the procedure was new, just learning |
| 0:38:00 | The nurse told Larry that they were going to put suture's into Larry and that it would hurt - they sutured 3 different places, because they also implanted a pump to help his heart, they sutured to the inside of his leg - as well as sutured a pacemaker into the inside of his other leg |
| 0:39:00 | They didn't use a numbing agent for the sutures - Jane says it seemed like they enjoyed inflicting that pain - this would become apparent later when they got the medical records |
| 0:40:00 | After suturing they moved Larry onto a gurney with a sheet over him and took him into the hall where he caught a glimpse of Jane and their son - they moved Larry to the CCU - coronary care unit |
| 0:41:00 | They moved Larry onto a bed but the nurse was flustered because the gown Larry was in was not the right gown for CCU, so she ran off leaving Larry naked again - she found a gown and put it on Larry, but only from his navel up to his chin - she was trying to hook up the equipment |
| 0:42:00 | She was complaining about too many wires, not enough connections, she didn't know how to do it - then the room fills up with IT techs and more nurses - the nurse told Larry to urinate and if he couldn't, she would put a catheter up his penis - so Larry peed into a bottle in front of a room of people as look on and talked and laughed - then the nurse showed the people how she was cleaning up Larry like a baby, and they laughed |
| 0:43:00 | It is hard to reconcile the juxtaposition of Larry perhaps dying from a heart attack, and the laughter of the hospital staff in the same room and context |
| 0:44:00 | A woman asked Larry if his spouse sexually molested him - but Larry felt like he'd just been sexually molested and felt humiliated and wanted Jane - he could finally hear her voice and she was having a tense conversation with the nurse about who his spouse was - the nurse then pulled the sheet up to cover Larry' genitals |
| 0:45:00 | The staff put Jane and her son in a waiting room, and told it would be 15 minutes - 2 hours went by - but there was hardly anyone in the hospital, but their son grabbed a nurse |
| 0:46:00 | She started laughing at him 'I know who you're here to see' - she told them how to get to Larry's room, but was laughing the whole time - Jane went towards Larry's room, while their son went to fetch his diabetic medicine from the waiting room |
| 0:47:00 | As Jane gets to Larry's room, she can see the sheet is only covering Larry from his navel up - the nurse turned smiling, but when she saw Jane she told Jane to get out - Jane said 'why, I'm his wife' - 'no you're not' - Jane said "I am' |
| 0:48:00 | The nurse starts laughing again and adjusting the sheet on Larry, saying 'there was a room full of people, I didn't know how to hook up the equipment', laughing the whole time |
| 0:49:00 | When Jane and her son arrived at the hospital, they were told that Larry was not there and were told to stand aside - the staff whispered among themselves and then yelled across the room that he was in the cath lab and they would send a chaplain - a nasty looking man in a polyester suit said he'd take Jane and her son to the waiting room |
| 0:50:00 | Jane tells the chaplain that they were fine and he could go - he said no, he'd stay - Jane repeated that she preferred that he left, but he refused - Jane and her son wanted to talk privately, but he wouldn't leave |
| 0:51:00 | The chaplain's phone rang, it had it on speaker phone - Jane could hear the person on the other end refer to Larry - but the chaplain walked away so Jane couldn't hear any more - he then said they were working on Larry - this happened 3 times - the 3rd time the chaplain said the doctor was ready to speak to Jane and her son - They got to the doctor's office, and again Jane asks the chaplain to go away - she put her arm across the door and said I don't want you in here, you have to leave now |
Part 2 of the interview with Larry and Jane next week.
Connect with Larry and Jane on Twitter 
Be a podcast patron
Support Medical Error Interviews on Patreon by becoming a Patron for $2 / month for audio versions. 
Premium Patrons get access to video versions of podcasts for $5 / month.
Be my Guest
I am always looking for guests to share their medical error experiences so we help bring awareness and make patients safer.
If you are a survivor, a victim's surviving family member, a health care worker, advocate, researcher or policy maker and you would like to share your experiences, please send me an email with a brief description:  RemediesPodcast@gmail.com 
Need a Counsellor?
Like me, many of my clients at Remedies Counseling have experienced the often devastating effects of medical error.
If you need a counsellor for your experience with medical error, or living with a chronic illness(es), I offer online video counseling appointments.
**For my health and life balance, I limit my number of counseling clients.** 
Email me to learn more or book an appointment:  RemediesOnlineCounseling@gmail.com
Scott Simpson: 
Counsellor + Patient Advocate + (former) Triathlete
I am a counsellor, patient advocate, and - before I became sick and disabled - a passionate triathlete. Work hard. Train hard. Rest hard.
I have been living with HIV since 1998. I was the first person living with HIV to compete at the triathlon world championships.
Thanks to research and access to medications, HIV is not a problem in my life.
I have been living with ME (myalgic encephalomyelitis) since 2012, and thanks in part to medical error, it is a big problem in my life.
Counseling / Research
I first became aware of the ubiquitousness of medical error during a decade of community based research working with the HIV Prevention Lab at Ryerson University, where I co-authored two research papers on a counseling intervention for people living with HIV, here and here. 
Patient participants would often report varying degrees of medical neglect, error and harms as part of their counseling sessions.
Patient Advocacy
I am co-founder of the ME patient advocacy non-profit Millions Missing Canada, and on the Executive Committee of the Interdisciplinary Canadian Collaborative Myalgic Encephalomyelitis Research Network.
I am also a patient advisor for Health Quality Ontario's Patient and Family Advisory Council, and member of Patients for Patient Safety Canada.
Medical Error Interviews podcast and vidcast emerged to give voice to victims, witnesses and participants in this hidden epidemic so we can create change toward a safer health care system.
My golden retriever Gladys is a constant source of love and joy. I hope to be well enough again one day to race triathlons again. Or even shovel the snow off the sidewalk.
Comments
(1)
To leave or reply to comments, please download free Podbean or