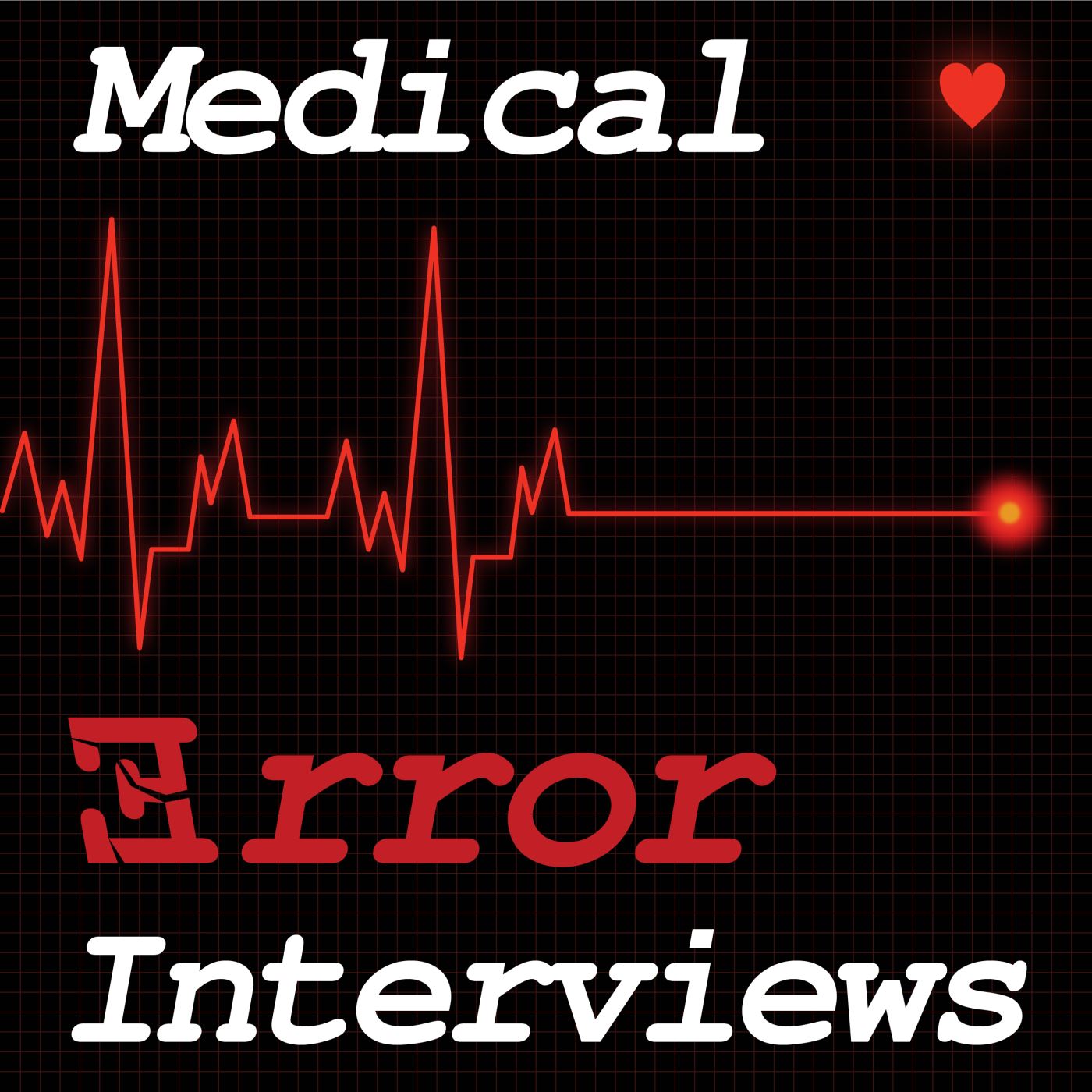 Interviews with survivors, victims' families, policy makers, and health care workers. What went wrong? How can we make health care safer? Host Scott Simpson, uses his counselling skills to evoke the secrets, stories and solutions. https://www.patreon.com/rss/MedicalErrorInterviews?auth=2eY8hVY9bd5o78a8cmpNSURYZ2VrqXrq
Episodes
Monday May 04, 2020
Monday May 04, 2020
A quick recap - in part 1 of the interview, Larry was having chest pain and his wife Jane drove him to the hospital, where he was diagnosed with a heart attack and sent by air ambulance to another hospital, a Catholic hospital, where they were met with hostility and a chaplain determined to keep Jane and her son from seeing Larry.
At the end of part 1, Jane was blocking the Cathlolic hospital's chaplain from coming into a meeting with the doctor about Larry's medical care and condition, and things are about to get even stranger….and more frightening...
SHOW NOTES:


| | |
| --- | --- |
| 0:04:00 | They got to the doctor's office, and again Jane asks the chaplain to go away - she put her arm across the door and said I don't want you in here, you have to leave now - but he came in sat down - then a doctor came in and 1st thing he says is 'I don't want to be here, I am tired, I want to be at home, I don't want to be here' - the doctor says 'I'm supposed to show you this video, but I can't get it to work - I'm tired and want to go home - do you really need to see it - do you have any questions?' - Jane says 'no', and the doctor leaves |
| 0:05:00 | Jane sees 2 women wheeling Larry - but the women looked mean and disgusted, and Jane stepped back - the chaplain said he'd escort Jane and her son back to the waiting room |
| 0:06:00 | the chaplain said Larry would be free for visitors in about 15 minutes, and that the chaplain would be right back - 2 hours went by and no word from any one - Jane was shocked by the whole situation |
| 0:07:00 | Jane was told that she would have to go because visiting hours were over - she found out later their policy is one person can stay overnight |
| 0:08:00 | Larry was left naked from the waist down until the next nurse came on shift - Larry woke periodically to feel a touch on his genitals, or the sound of laughter |
| 0:09:00 | When the next nurse, a male nurse, came on shift, Larry was covered after that - according to records, about 6am with the female nurse reported that Larry woke up nauseasted and vomited on himself |
| 0:10:00 | the female nurse cleaned him up, but left him naked to go get supplies - the records show they knew the meds they gave him would make him vomit, so they prescribed an anti-nausea med, but the nurse never gave it to Larry - so he could've choked to death on his vomit |
| 0:11:00 | On Sunday Larry was still kind of out of it - the doctor had come in the morning to tell Larry about the procedure |
| 0:12:00 | Larry thought he must have been in bad shape if they had to do that procedure - when Larry and Jane talked, they realized neither of them gave permission for the procedure - Larry wanted to get out of the hospital as fast as possible |
| 0:13:00 | When Larry got home he had a shower, but he didn't want to talk to Jane about the experience - he was traumatized - he's had nightmares ever since - he can't believe what they did (cries) - it is beyond unprofessional, they intended to harm Larry |
| 0:14:00 | It wasn't until they got the hospital records that they started to piece together why Larry was treated the way he was - the first hospital did not record the pain killer they gave him, or the reactions Larry told them he had to pain meds - they also wrote down that Larry had a husband |
| 0:15:00 | So hospital #1 recorded Larry as a gay married man, and they sent him to a religious hospital that has anti-gay policy - the hospital is in a lawsuit because they refuse to perform certain services to LGBTQ people - Larry and Jane think hospital #1 was punishing Larry because he didn't want to go to their affiliate teaching hospital |
| 0:16:00 | Jane's confrontation with the nurse, was because the nurse was expecting a gay man - Larry and Jane also suspect the hospital thought their son was Larry's husband, always addressing their son, not Jane |
| 0:17:00 | At cardiac rehab, Larry told them about his abnormal responses to pain meds - cardiac rehab noted it, then crossed it out - CMS (Centre for Medical Services) told Jane doctors can do any procedure or give any drug they want, even if you have declined it |
| 0:18:00 | The ER doctor lied to them - he knew what he was doing - the 2nd hospital didn't note any of the meds Larry had already been given - they wanted to make it look like Larry had agreed to the other pain meds in their records |
| 0:19:00 | They had the chaplain gaurd Jane and her son, because the hospital had called in the cath lab team special, they were going to give Larry the prodecure, it didn't matter if he didn't want it - because the nurse thought Larry was gay, she was gaining points with hospital staff who witnessed her torture Larry - she's a predator and should not be working with any one |
| 0:20:00 | Larry doesn not have modesty with health care issues, this is a nurse who used her power and authority while Larry was drugged and wasn't able to physically or verbally stop her - Versad is a date rape drug and erases the memory - that's why the hospital thought Larry wouldn't remember anything |
| 0:21:00 | In Europe, they don't use drugs 75% of the time for this procedure, but the US to make the patients submissive and without memory - so #1 the air ambulance staff gave Larry meds without his permission, and #2 the lead doctor did not ensure a true consent was attained from Larry for the procedure |
| 0:22:00 | Now Larry has to live with the consequences of the procedure for the rest of his life - Larry now has to take medications to prevent the implancted stents from killing him, and they cause other complications: liver failure, diabetes, etc - Larry was also exposed to more radiation than protocol - Larry is a cancer survivor, so he would never have consented to that much radiation exposure |
| 0:23:00 | Jane can't believe it happened, and nobody can tell them why |
| 0:24:00 | So homophobia intersects with profiteering while denying informed consent, lying about informed consent, coupled with mulitple medical errors - in Larry's medical records it says 'his pregnancy was uneventful, and the baby is doing fine' - another section says Larry had a 6 hour procedure - another section of his records says the nurse reported she was at the 1st hospital when the put the IVs in, and had informed Jane about everything |
| 0:25:00 | Lie after lie after lie, mistake after mistake - that's the bad thing about electronic health records, the staff just go through and check boxes |
| 0:26:00 | All they do is 'click click click' - but Larry's records are so bad, they are practically useless in trying to figure out what they actually did or did not do - they say to avoid stress after a heart attack, but then the hospital loads all this unnecessary stress, like they wanted him to die because they thought he was gay |
| 0:27:00 | Jane couldn't imagine being a gay person and going for treatment at a Catholic hospital - Jane says she would crawl away rather than step foot in one of those hospitals because they use their religion to cause harm - in their hiring practices, the hospital says they have the right to supercede state and federal laws |
| 0:28:00 | Larry and Jane have not gone for trauma counselling because they don't trust them, but they recognize they both have PTSD - Jane feels guilty for not protecting Larry |
| 0:29:00 | Jane's guilt is motivating for her advocacy - but they can't get an attorney to take their case because there is no 'evidence' in the medical records of harm to Larry |
| 0:30:00 | Each hospital shold abide by the federal patient bill of rights, these were all broken in Larry's case - there could be a class action lawsuit - but attorney's won't deal with this hospital, because it is particularly vicious and aggressive |
| 0:31:00 | When Jane complained, the hospital wrote back 'if you don't like it, go somewhere else' - the doctor wrote 'if I've done something I'm sorry' - Jane asks 'what do you mean 'if'?' - you did a procedure without consent |
| 0:32:00 | The records said Larry was diabetic, but he's not - for months he got calls from companies trying to sell him diabetic supplies - his health insurer even told him to go for his diabetes check up - but he can't get them to correct his medical records |
| 0:33:00 | The doctor did a glucose test, but it was not fasting, it was during Larry's heart attack - any newbie doctor would know a glucose test at that time is useless and misleading |
| 0:34:00 | In the US insurance company gets paid for chronically ill patients, so with a diabetes label, they would have made more money - the hospital charged for 2 rooms on 1 day - CMS and the insurer didn't want to deal with the fraud, so for 6 months Jane persisted until the hospital removed the extra billing - the insurance company told Jane she caused bigger problems because they had to re-submit the bill |
| 0:35:00 | They didn't care that $3000 was stolen from them - fraud is alive and well in hospitals, they know how much they can get away with, and they do - they gave Larry 1 medication twice, 15 minutes apart, but the 2nd dose cost $25 more - they are not health care centers, they are profit making centers |
| 0:36:00 | So at least in the US, there is no such thing as patient rights - Jane has a book called "Operating Room Confidential" by Dr Paul Whang, an anaethesiologist - he writes they like to have fun with male patients - the medication they give causes penises to move and become erect - they like to bring in new nurses and say 'look what you do to him' |
| 0:37:00 | They use patients for sexual entertainment - they have no respect for patient dignity - once you've been drugged, you have no control over what they do to you |
| 0:38:00 | Larry will never go to the ER again - he had a medical encounter recently for an EKG, the medical assistant said 'strip from the waist up' - 'strip' is a word that should never be used in a medical setting, it is a sexual word - Larry froze (a PTSD symptom) and the medical assistant started to take off his shirt, but Jane yelled and stopped her |
| 0:39:00 | Jane asked the worker if Larry's record had note that he's the victim of medical sexual abuse, the medical assistant said 'no' -- so again, if the hospital doesn't want something in the patients record, it won't put it in - Jane told the worker the note was also supposed to say that Larry should receive trauma informed care - the medical assistant knew nothing of the concept |
| 0:40:00 | How men are treated in health care is very different from women - for example, when a man goes for a prostate exam, he'll be told to drop your pants and bend over the table, even if there is a female medical assistant - but how many women for a gynecological exam are told to 'drop your pants' |
| 0:41:00 | Health care is so different for men and women, and Jane is determined to change it and has become an activist |
| 0:42:00 | Jane thinks nobody should have to undergo a procedure without their consent, it is criminal, and somebody should go to jail for it, somebody should lose their license |
| 0:43:00 | If versad was given to a woman at a party, and she was undressed, and a bunch of people called in to look at and touch her, they would be arrested - but why do hospitals get away with it? |
| 0:44:00 | The consent form at the hospital says the doctor has the right to do anything the doctor feels you need - even if you've had a verbal conversation about your wishes - as soon as you sign that form, it negates your conversation |
| 0:45:00 | If Larry had of been asked to sign the consent form, he would have - as he has always done - cross out 'students, sales reps, observors' to be allowed in during a procedure - CMS said the procedure had already started before the form was completed by the medical staff |
| 0:46:00 | Larry is doing okay - not getting as much work done as before - has shortness of breath, could be side effects of meds of the stents - tired, hard to focus, that never happened before - a PTSD symptom |
| 0:47:00 | Larry gets very quiet, while Jane gets very mad - we all have different ways of dealing with trauma - Larry has nightmares - Saturday nights are hell for them, they can't see a clock |
| 0:48:00 | The medical trauma and PTSD prevents Larry and Jane from seeking trauma treatment, but cause they can't trust people in the health care field - they are considering moving to another country |
| 0:49:00 | With the COVID pandemic, all doctors are heroes - but Larry's doctor's were not heroes - how do you tell which ones are heroes? |
| 0:50:00 | There are a lot more people out there with similar experiences that we never hear about, they just accept that that is the way it is - they never examine their medical records or they would see - yet those records are the gospel to CMS or the State Attorney General or whomever should be enforcing and taking care of patients rights |
| 0:51:00 | In Indiana, the only way they can do a procedure without consent, is if the patient is unconscious and the next of kin cannot be found - but Larry was conscious and Jane was at the hospital |
| 0:52:00 | We cannot let them continue to do this, we must stand up - its our rights, its our bodies - doctors are our paid advisors, to carry out our wishes, like a server at a fast food restaurant - doctors need to learn that |
Be a podcast patron
Support Medical Error Interviews on Patreon by becoming a Patron for $2 / month for audio versions. 
Premium Patrons get access to video versions of podcasts for $5 / month.
Be my Guest
I am always looking for guests to share their medical error experiences so we help bring awareness and make patients safer.
If you are a survivor, a victim's surviving family member, a health care worker, advocate, researcher or policy maker and you would like to share your experiences, please send me an email with a brief description:  RemediesPodcast@gmail.com 
Need a Counsellor?
Like me, many of my clients at Remedies Counseling have experienced the often devastating effects of medical error.
If you need a counsellor for your experience with medical error, or living with a chronic illness(es), I offer online video counseling appointments.
**For my health and life balance, I limit my number of counseling clients.** 
Email me to learn more or book an appointment:  RemediesOnlineCounseling@gmail.com
Scott Simpson: 
Counsellor + Patient Advocate + (former) Triathlete
I am a counsellor, patient advocate, and - before I became sick and disabled - a passionate triathlete. Work hard. Train hard. Rest hard.
I have been living with HIV since 1998. I was the first person living with HIV to compete at the triathlon world championships.
Thanks to research and access to medications, HIV is not a problem in my life.
I have been living with ME (myalgic encephalomyelitis) since 2012, and thanks in part to medical error, it is a big problem in my life.
Counseling / Research
I first became aware of the ubiquitousness of medical error during a decade of community based research working with the HIV Prevention Lab at Ryerson University, where I co-authored two research papers on a counseling intervention for people living with HIV, here and here. 
Patient participants would often report varying degrees of medical neglect, error and harms as part of their counseling sessions.
Patient Advocacy
I am co-founder of the ME patient advocacy non-profit Millions Missing Canada, and on the Executive Committee of the Interdisciplinary Canadian Collaborative Myalgic Encephalomyelitis Research Network.
I am also a patient advisor for Health Quality Ontario's Patient and Family Advisory Council, and member of Patients for Patient Safety Canada.
Medical Error Interviews podcast and vidcast emerged to give voice to victims, witnesses and participants in this hidden epidemic so we can create change toward a safer health care system.
My golden retriever Gladys is a constant source of love and joy. I hope to be well enough again one day to race triathlons again. Or even shovel the snow off the sidewalk.